German Departments receives award from vhb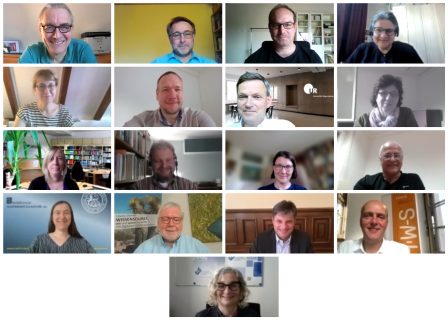 On 5 July 2021, the Department of German as a Foreign Language received the Special Award for Exemplary Networking in conjunction with the German departments in the language centres of the universities of Würzburg and Regensburg and THN in Nuremberg during an online ceremony on the occasion of the 20th anniversary of the Virtual University of Bavaria (vhb).
In their statement, the Virtual University of Bavaria (vhb) praised staff responsible for collaborating with the vhb at the German departments of the four universities for their exemplary implementation of vhb's 'fundamental principle of networking and sharing virtual teaching' for over ten years. They actively participate in project meetings, offer support to each other with designing and setting up courses and also take any special requirements of the individual universities into consideration.
This partnership has now resulted in 20 CLASSIC vhb courses. The collaboration also continues in the OPEN vhb, with 11 OPEN vhb courses already running and a further five in development. The courses offered by the prize-winning universities are taken by students from almost all the 32 member universities of the vhb.
'The vhb supports the continuing collaboration between the four award-winning universities and the development of their network with 2,500 euros of prize money that will enable them to hold networking days on the topic of e-learning and digital teaching'.
Dr. Frank Mielke, Heidi Daumer-Hirschmann and Dr. Gunter Lorenz, who is director of the Language Centre, accepted the award for the Department of German as a Foreign Language.
During the ceremony, which was originally planned for May 2020 and had to be postponed due to the pandemic, prizes were awarded to courses from six different subject groups and to a total of ten member universities. In addition to the prize mentioned above for particularly successful networking, prizes were awarded in the categories 'Outstanding media-based teaching' and 'Outstanding supervision'.
The award ceremony was conducted by the members of the Executive Board of the vhb, President Prof. Dr. Dr. habil. Godehard Ruppert, Prof. Dr. Robert Grebner (President of the University of Applied Sciences Würzburg-Schweinfurt) and Prof. Dr. Joachim Hornegger (President of Friedrich-Alexander-Universität Erlangen-Nürnberg), and State Minister Bernd Sibler offered his congratulations in a video message on behalf of the State Ministry of Science and the Arts.