Writing in English for members of the FAU community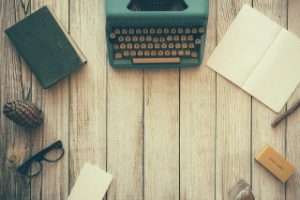 Individual writing consultations in English
The Writing Centre offers one-on-one writing support for all members of the FAU community. This service is free of charge. You are welcome to sign up for an ONLINE appointment via Zoom by emailing Deirdre Rieker or by clicking this button:
Attention:
Consultations are being offered via Zoom due to the COVID-19 situation.
You will receive a Zoom link prior to your appointment.
Writing Consultation Times Bookable in Timify

Mondays
11:00 & 12:00 (Deirdre)
Wednesdays
11:00 & 12:00 (Deirdre)
Appointments generally last around 45 minutes and are currently being conducted via Zoom.
You will receive a Zoom link from your writing consultant prior to the meeting time.
For appointment requests at alternate times, or if you prefer not to use the online booking system, simply send an email to Deirdre Rieker.
We are available to help you with any type of writing at any stage of the writing process (research papers, articles, proposals, theses, dissertations, CVs, letters, abstracts, reports, essays, or just about anything else in English).
What is most important is that the writing is yours and remains yours. This means that we won't write for you, nor will we "correct" what you have written. Nor are we able to provide content-specific feedback. Rather, we are here to support you in developing and improving your writing skills.
Sessions are customized to each writer's needs. Depending on your priorities, a session might include discussing your ideas to develop them further, creating graphic organisers to define structures, identifying and applying grammatical conventions, fine-tuning language to ensure the meaning is clear and diction is appropriate, or whatever else is on your mind.
Please bring along any notes, drafts, or explanations of the assignment that will help convey the goal of the writing task at hand.
If you can't make it to a scheduled appointment, please send an e-mail to let us know–ideally at least 24 hours in advance–or cancel through the online booking tool.
Writing courses
The Language Centre at FAU offers many academic writing courses in English for various levels of learners. Current courses are available in UnivIS.